TECHNICAL PARAMETERS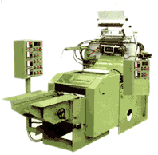 A. Main machine
A1, Main electric motor: model AO2 7134-B3, 0.75KW, 1400rpm.
A2, Reducer: WHX06-65-50-and WHX06-65-50-Ⅱ, turning ratio 40I;
A3, Casting size: Max. 320L180W(1.0~3.5)Thick;
A4, Mold size: max. 430L240W(40+40)thick;
A5, Air pressure: Min. 0.5MPa, 0.12m3/min.;
A6, Max. internal size: 3500L620W1800H;
A7, Output: 8~16 castings per minute;
A8, Combustible Gas: 0.12m3/min.
A9,Weight 3500kgs;
A10 , Electric Power:380V, 3 Phase, 50 Hz, 57KVA; A11, Operator: one can operate two or three machines.
B. Lead pot
B1, Volume: 350l;
B2, Temperature: 400~600、, adjustable;
B3, Temperature rising time: 3hrs;
B4, Heating tube's electric power: 35KW
B5, Total weight with lead: 4000kg;
C. Lead supply system
C1, Lead supply tube's temperature: 450~600、,(adjustable);
C2, Electric power: 8KW;
C3, Lead pump: model AO2 7134-B3, 0.75KW, 1400rpm;
D. Constant temperature cycling water system
D1, Volume: 0.9~5.4 kg/cm2. soften,0.12m3/min.;
D2, Temperature: ~40、;
D3, Water pump: 1.1kW, 1/2 ` BL-6;
D4, Electric Heater: 3kW.
E. Available in two forms, type-A to couple with two casting machines and type-B to couple with one casting machine.
F. Range of supply in sets:
1.Electric control case for lead pot;
2.Lead pot;
3.Lead-supply system;
4.Main machine;
5.Electric control case of main machine;
6.Tank of circulating water;
7.Mixer;
8.Stirrer.

The VOLT Casting machine, type CAST2A, is specially designed for high productively and for the casting of lightweight alloy grids in low resistance, radial and center bias lug designs for MF & VRLA batteries. Fast, reliable and rugged construction for continuous 3-shift production. This machine incorporates the most advanced features in grid castings.
lAccurate temperature control of the up and down parts of the mold: the control is carried out by water cooling on multiple lines and by thermostatically controlled electric heaters. The tilting plate and the trim die are also water cooled.
lAccurate alloy casting control : the alterative are conventional lever pots, with rotary pump, and raised pots with gravity feeding. In both cases the quantity of lead is metered by special valves..
lAway oxidation: closed pouring ladle with electric heating and oxidation-preventing flames, lead drop eliminator is provided for the alloys specially in calcium lead alloy.
l Recycling system for the mold cooling fluid: utilizing and automatic temperature regulator provided with heating and cooling systems. It ensures constant casting conditions and at the same time eliminates lime deposits inside the cooling ducts. Regulation of the mold conditions also continues when the machine stops.
High productivity: the ladle and the stacker are separately equipped

with water-cooling and fan-cooling.